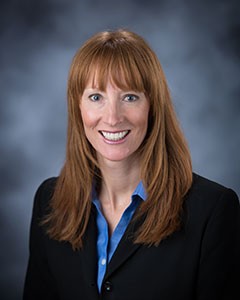 LISA BARTELS
Lisa's hometown is Overland Park, Kansas. She came to Lincoln in 1995 to accept an athletic scholarship and work towards an undergraduate degree in biology. She was a member of the University of Nebraska volleyball team from 1995-1997. Lisa was personally introduced to the field of physical therapy when she sustained significant injuries during her collegiate career. After finding success with a treatment approach termed Postural Restoration, Lisa decided to attend physical therapy school. She received her Doctorate of Physical Therapy from the University of Nebraska Medical Center in 2005. Following her training she went to work at the Hruska Clinic for four years, and then accepted an opportunity to practice at the Rejuvenation Center in Omaha.  Lisa joined Crossroads in 2011.
Lisa has been certified in using Postural Restoration techniques since 2008.  Lisa has been a consultant to several university sports medicine departments and authored numerous articles regarding biomechanics and preventative training strategies.
Given her personal experiences with athletics and injuries, Lisa's special interest is working with athletes of all levels who are struggling with injury and pain.  She also has extensive experience working with low back pain, neck pain, shoulder dysfunction, and TMJ dysfunction.
Lisa is married to Bruce,  and the mother of two wonderful blessings, Claudia and Joshua.  She enjoys family time and just about anything outside.  She is also a dog lover and the proud owner of two cardigan corgis;  Thunder and Bella.