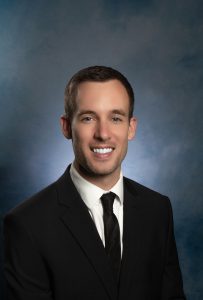 KYLE BOWN
A Lincoln native, Kyle completed his Bachelors of Science in exercise science at Nebraska Wesleyan University.  In addition to his academic endeavors, Kyle had a successful career as a member of the Prairie Wolves track and cross country team. Kyle received his Doctorate of Physical Therapy  from Des Moines University, and has been with Crossroads since graduating.
His treatment philosophy is focused on addressing underlying foundational mechanics and soft tissue dysfunctions that contribute to movement limitations and pain. Kyle has received training in Postural Restoration and Applied Movement Science to better understand faulty biomechanics.  He uses these theories to assist in treating dysfunctions of muscles. He is also a Graston Technique provider, an instrument assisted soft tissue mobilization technique that can be used to treat a variety of conditions from acute injury to chronic musculoskeletal conditions. Specialized treatment techniques include traditional therapies along with integrative dry needling, myofascial release, fascial release using cupping, and muscle energy techniques for joint mobilization.
Kyle continues to stay active as a runner and cyclist, participating in races locally and across the country.