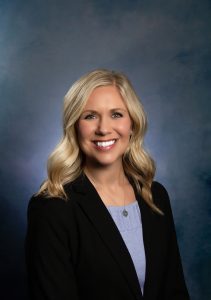 JANAE GREER
A York, Nebraska native, Janae is a graduate of the University of Nebraska – Kearney, where she received her Bachelors of Science in Exercise Science.  She received her Doctorate of Physical Therapy from the University of Nebraska Medical Center and became a member of the Crossroads Physical Therapy team following graduation.  Since beginning her career in outpatient orthopedics, Janae has received extensive training in Postural Restoration, Women's Health, and Trigger Point Dry Needling.
Janae is passionate about assisting her patients to meet their functional goals and enjoys working with a variety of patients and diagnoses.  She is a member of the Nebraska Physical Therapy Association and the American Physical Therapy Association. Specialized treatment techniques include traditional therapies along with integrative dry needling, myofascial release, fascial release using cupping, and muscle energy techniques for joint mobilization.
Janae is married to Andrew, and is the mother to three children, Asher, Jayla, and Addison. She enjoys spending time with her family and friends, spending time outdoors, exercising, and baking.