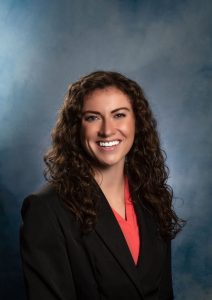 ANDREA LAVENE
Andrea is a native of Roca, Nebraska. She received a Bachelor of Arts in Biology at Hastings College where she played volleyball and was a member of the 2016 National Championship team. Andrea completed her Doctorate of Physical Therapy degree at Des Moines University and has been with Crossroads since graduation. She is trained in Postural Restoration techniques and is excited to help her patients meet their goals and get back to doing what they love.
Specialized treatment techniques include traditional therapies along with myofascial release, fascial release using cupping, and muscle energy techniques for joint mobilization.
In her free time, Andrea enjoys playing volleyball, exercising, and spending time with family and friends. She is married to Ryley, and the two love to spend their time outdoors playing spikeball, going on bike rides, and trying new restaurants.