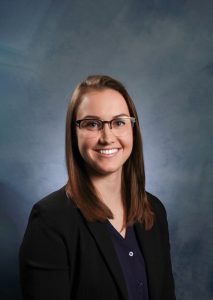 MAISIE HABRON-WACH
A native of Gretna, Nebraska, Maisie attended the University of Nebraska - Lincoln for her Bachelors degree in Biological Sciences. She completed her Doctorate of Physical Therapy degree at the University of Nebraska Medical Center and has been with Crossroads since graduation. She is trained in Postural Restoration and is a member of the American Physical Therapy Association.
Maisie is excited to work with a variety of patients and diagnoses, and assist them in meeting their goals and improving their mobility for their daily life and hobbies by taking an integrated approach to their care. Specialized treatment techniques include traditional therapies along with  myofascial release, fascial release using cupping, and muscle energy techniques for joint mobilization.
Maisie is married to Joel and enjoys spending time outside, working on home improvement projects, and exercising in her free time.