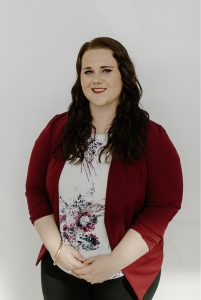 Alexis Herrman
Alexis (lexy) grew up not far from Lincoln in Hastings, NE. She received her bachelors of science from Kansas State University where she was an active member of the Wildcats marching band. Lexy went to the University of Nebraska Medicine to receive her Doctorate of Physical Therapy and participated in women's health studies to treat pelvic floor. Lexy is currently a member of the American Physical Therapy association.
Lexy has completed continuing education courses in Pelvic Floor Therapy and Postural Restoration. Lexy enjoys treating a wide variety of physical therapy diagnosis and helping others get back to doing what they love most.
Lexy lives here in Lincoln with her Husband, Mason and their very spoiled dog, Cookie. In her free-time you can find lexy roaming the aisles of craft stores, reading, or picking up a great deal at the local thrift store. Lexy loves traveling with her husband and friends, and spending time with family.